Study Finds Distracted Driving a Factor in Even More Crashes than Previously Believed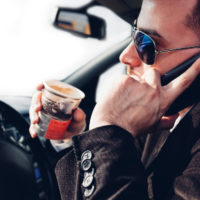 We've all passed drivers on the road, whether stopped at a red light or even while driving at full speed along the freeway, who had their heads facing down to look at their phones. While safety groups and law enforcement have made countless attempts to remind drivers of how dangerous a behavior this is, some careless drivers nevertheless persist in prioritizing their responses to emails and text messages over their safety and the safety of other drivers. After two straight years of climbing traffic fatalities following fifty years of declining numbers, a recent study demonstrated that phone distraction occurred in a shocking portion of trips ending in a crash.
Cambridge Mobile Telematics, the company that conducted the study, created smartphone apps which track the average length of phone distraction by drivers, as well as multiple other driver behaviors such as excessive speed, braking, and acceleration. Using data gathered by their mobile apps, the company found that drivers in 52% of all trips that resulted in a crash were at some point distracted by their phones. In 20% of all drives that involved distraction, the distraction lasted for two or more minutes. The worst 10% of all distracted drivers were found to be 2.3 times as likely to be involved in a crash than the average driver. The company also found that states which banned handheld phone use saw only marginally less distracted driving than did states without laws banning handheld phone use.
Drivers in the state of California are subject to strict hands-free phone use laws. California drivers are barred not only from handheld phone conversations, but also must refrain from holding their phone to pull up the phone's apps, including music or driving direction apps. Victims of California car accidents who can show that the crash was caused by a driver using a mobile phone may use the laws banning such behavior in proving the driver's liability. A skilled Los Angeles car accident attorney can also use evidence such as eyewitness testimony, phone records, or surveillance footage to prove that the driver was distracted at the time of the crash. Speak with a lawyer as soon as possible if you believe your car accident was caused by a distracted driver.
If you've been injured in a crash in Southern California, contact the dedicated and knowledgeable Los Angeles car accident attorneys at the Law Offices of Kaiman, Greene & Associates for a consultation, at 310-789-2030.