Keep Kids Properly Restrained to Prevent Serious Injury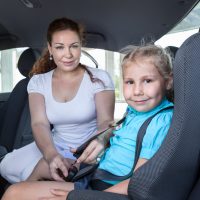 A recent report published by the Journal of Pediatrics states that children are improperly restrained in a large share of car accidents in which those children are fatally injured. Learn more about how improper restraints are linked to fatal injuries among children, and contact an experienced California accident attorney if your child is injured in a serious crash.
Improper restraints linked to fatalities
The report in the Journal of Pediatrics used data gathered by the National Highway Traffic Safety Administration's Fatality Analysis Report System. The study included data on over 18,000 fatal accidents involving a child under 15 years old occurring between 2010 and 2014. In 16% of those 18,000+ accidents, a child was one of the fatalities. In fact, during that time, an average of 11 children per week were killed in traffic accidents. In 43% of accidents where a child was killed, that child was either improperly restrained or not restrained at all. In another 13% of crashes involving the death of a child, the child was seated in the front seat of the car when they should not have been. Previous studies have revealed that up to 75% of parents do not use car seats and other child restraints properly.
Recovering for an accident when improper restraints used
In California, drivers are obligated to wear a seat belt and to ensure that all passengers are properly restrained. If you're injured in a crash while you or a passenger aren't restrained, the at-fault drivers may be able to claim that they should pay less toward your damages or those of your passengers. This argument is based on the idea that you contributed to your injuries by failing to follow the law requiring use of a restraint. If your child is seriously injured in an accident and was not properly restrained at the time of the crash, you may find it easier to recover on your claims by hiring an experienced attorney. An attorney will know how to use expert medical testimony to show whether injuries could have been avoided through restraint use, as well as which injuries were unavoidable.
If you've been injured in a car accident in Southern California, contact the dedicated and experienced Los Angeles personal injury lawyers at Kaiman, Greene & Associates for a consultation, at 310-789-2030.